Pricing -
There are 5 types of Bunker (Type 1a - Type 4). We have listed below the cost for Bunker Shield to build all fallout shelter types, although we have provided free instructions for you to build fallout shelters Type 1a and Type 1b yourselves (see link above). We specialize in the building of Type 4 bomb shelters. These are the types that require professional construction and cannot be built on a 'DIY' basis.
Please note that due to the fact that professional input is essential, also that specific dense materials are required to stop gamma radiation and that heavy duty construction methods are involved,Type 4 Bunkers are expensive. Unfortunately this is unavoidable if you want to survive a nuclear bomb blast! We have endeavored to make our services as accessible to as many people as possible. However, we are the cheapest option in the UK -
Right now there is a huge demand for decommissioned government Nuclear Shelters. The average price for these is around £150,000 but the cost can rise to as much as £350,000+. That cost doesn't even include stocking the Bunker or making it 'emergency ready' (which will cost a further £20,000 - £35,000). Also, the government Shelters tend not to be anywhere near your home, so pretty useless in an emergency!
Our Bunkers are no way near as expensive as this and what you pay for includes: being commissioned fully 'emergency ready', stocked with emergency supplies and is right where you need it the most (in your garden). Why would you mess around with old government Bunkers when you can have one of your own for a third of the price???
Our Bunkers are designed around your specific needs. Taking into account the: size of your family, storage requirements and the regional geological topographic's of your area!
Please see the 'Payment Options' section at the bottom of this webpage. There you will find that we can accept payments other than cash. We have also suggested that if you have a street of terraced housing then if the residents can contribute £10,000 each we can build a communal Type 4 Bunker for that street (pending a minimum amount of houses taking part and contributing . We really do want to help everyone and don't want people to be at risk in a nuclear crisis just because of a lack of funds! We are also looking at teaming up with finance Companies to help our customers in the future (although we don't provide this service just yet).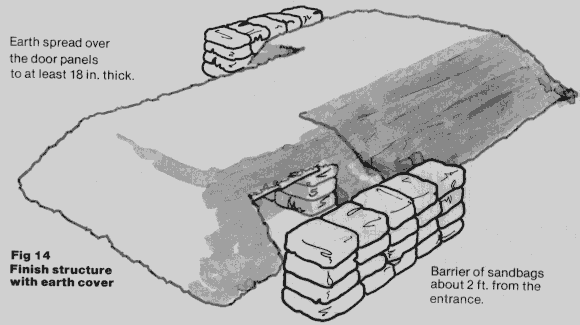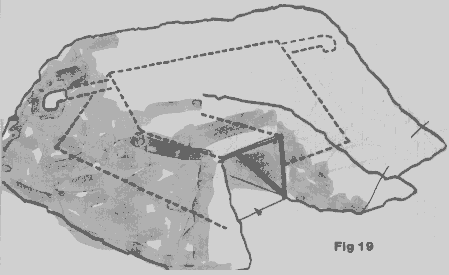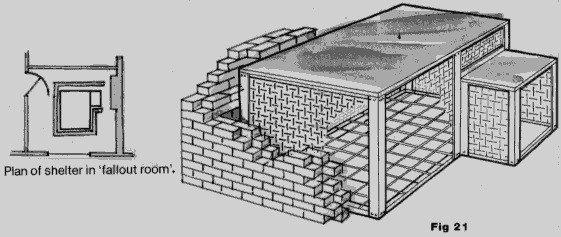 £20,000
(Please note, we will build a better Type 2 bunker than the one illustrated here in that it won't be a small cage encased within a brick shelter, but rather a custom built brick room within your basement with bunk beds and storage facilities inside).
We will also line this brick compartment in a cage to protect from blast damage should your house be close to the detonation point. If you don't have a basement, then this type of Bunker is not suitable for you.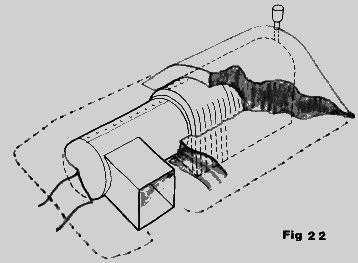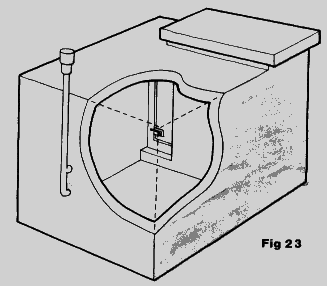 £51,700.00 - £125,000+
Depending on size, design and storage requirements - average cost will be in the £75,000 - £85,000 range (Communal Bunkers will cost significantly more due to the larger space required). This type of Bunker will also push up your property value by an average of 4%, sometimes more.
Other factors that will affect the price include:
It is recommended that the Bunker size (in sq ft) be between 10 sq ft per person (for a stay of 2 weeks) - 60 sq ft per person (for a stay in excess of a year). We allocate 20/25 sq ft per person. The sq ft cost of a bunker depends on the Protection Program, blast over-pressure requirements, extent of EMP shielding, geotechnical/site conditions and the client's privacy/secrecy requirements.
Also....
You will not know the cost until the soil boring's are completed and you know the type of sub-grade material and level of ground water. The Geometry of the land also factors....
Technical data relating to operational ceiling of Bunker's!



Bunker T1 (a) and T1 (b)
Home Made

Bunker T2
Basement Bunker

Bunker T3
Pre-Fabricated Subsurface Shelter

Bunker T4
Professional Construction (Bunker Shield specialises in these)

Maximum Blast Pressure Wave (PSI) resisted before structural collapse

1.5 psi

6 psi

11 psi

Over 11 psi

Protection Factor

(reduction of radiation)

PF 40

PF 70

PF 200

More than PF 300

(Initial Nuclear Radiation also resisted)

Range of Bunker survivability

(based on a 1 MT airburst detonation)

No closer than 7 miles out from detonation

No closer than 3 miles out from detonation

No closer than 2 miles out from detonation

Closer than 2 miles out from detonation

(this really depends on Bunker customisation, protection features and specifications)

Type of Air Supply

Pipe to outside

(at 90 degree angle)




Pipe to outside

(at 90 degree angle) or

Kearny Air Pump

Kearny Air Pump

Kearny Air Pump

Placement of Bunker

Inside house or Outside Yard

In basement

Buried in Yard

Deep subsurface construction in Yard. Major modiications required (although will be hidden when finished)

When should Bunker Type be constructed?

At very short notice!

Can be constructed relatively quickly

At very short notice!

Can be constructed relatively quickly

At relatively short notice!

May take longer to construct than Bunker Types 1 (a), 1 (b) and 2!

Long term notice!

Requires foresight, planning and professional construction. This all takes time!

Estimated construction expense (2010 prices)

£1,290.00+

[not including labour, surveyor and professional costs]

£5,690.00+

[not including labour, surveyor and professional costs]

Kit £9,310.00+

[not including labour, surveyor and professional costs]

£51,700.00 - £125,000 (Communal Bunkers, Luxurious Bunkers, and Bunkers with a lot of extra 'military style' protection, will have a greater expense)

[Including labour, surveyor and professional costs]
Please note, of the examples of shelter listed above, only Type 4 will enable survival within 2 miles of the blast site. Most of population in Britain will be within 2 miles of a blast site! Radiation spreads out about 5 miles, this alone would kill 90% of population within that 5 mile radius not protected by Bunkers! You MUST stay inside your Bunker for at LEAST 2 weeks after detonation to avoid lethal radiation exposure. I would recommend staying inside for 1 month and have supplies to last at least that long (if not longer).
Planning permission, Building Regulations and rating
If you wish to install a permanent shelter you may need permission. You should check the regulations before submitting plans or beginning work. Your local District Council will tell you about planning permission and the Building Regulations. A permanent shelter may affect the rateable value of your home, and this is a matter for your local District Valuer and Valuation Officer (Regional Assessor in Scotland).
There is an exemption from Building Regulations and Planning Permission provided:
Internal Floor area is no more than 30 sq metres (322.92 Sq Ft),

Depth is no greater than the distance to the nearest building, and

It is a subsurface Type 4 Shelter, and not one of our 'above surface' models!
In those circumstances you do not have to submit plans. Tell your neighbours that it is a septic tank or something; otherwise they will try to break in when the bomb falls.
Payment Options
Ordering Procedure
The Bunker must be paid for in full before construction can start. The process of ordering a Bunker is as follows -
1 - You use the order form to tell us the amount of people that will likely use the Bunker, the location and pictures of your house & garden (Yard).
2 - We will work out the total square footage required, plus any additional storage space and get back to you with the size of the Bunker you will need and the price.
3 - You pay us a deposit/retainer (depending on size of Bunker, usually about £20,000). This is non-refundable should you change your mind. This is due to the fact we have to pay for Soil boring's, Structural Engineers to visit your home, and arrange for a contractor to do the job. We are very busy and do not have time to waste!
4 - We will then arrange for a Structural Surveyor to visit your premises and he will show you the plans we have drafted, and explain what will happen, time frames, etc.
5 - You then pay the remainder of the balance and Construction begins (start time agreed between you and the contractor). NB - If the remaining balance isn't received within 6 months, the job is cancelled.
6 - Shelter commissioning! At the end of the job a representative from Bunker Shield will visit the site to inspect it and oversee the stocking of Bunker with essential survival resources.
7 - To this end you MUST keep by at least £10,000 extra so your Bunker can be stocked with survival resources. You can go ahead without this, but we recommend that you stock your Bunker with essentials immediately after construction to help you survive well over a month in there!
8 - Owner training and drills will be provided if required and further advice given on what to do in an emergency! Bunker maintenance instructions will also be given!
Ways to Pay
We accept Cash (bank transfer, coin or cheque), as well as Gold, Silver, Diamond and high value Jewellery!
We are also looking at including Bitcoin's as a payment option in the near future, but please note... if you are paying in Bitcoins (and since they are not officially recognized legal tender we will only accept them in place of cash if the Bitcoins paid are roughly 3 times the total cost of the Bunker (so a Bunker at £50,000 will require 150,000 Bits to pay for it). This is due to the fact it will take some time to convert the Bits into cash and there MAY be some depreciation in this process, but not necessarily so! If you have a lot of BitCoin's and fancy exchanging them for a tangible asset then please get in contact with us to discuss your options further!
We have tried to make it as easy as possible for you to pay for your Bunker. If you wish to have a Bunker installed, but don't have the cash available, then we can accept the following asset transfer methods instead (the assets must be worth slightly more than the Bunker cost to cover depreciation and resale loses). This method is excellent for domestic customers who have assets, business owners and Corporate Organizations -
Vehicle Swap
1 - Cars (sports/executive/antique/high performance or any number of regular used or ex-hire cars, etc).
2 - Boats (Fishing Vessels/Hover Craft/Yachts/Luxury Yachts/Passenger/Cargo, etc).
3 - Aircraft (Glider/Microlight/Light [Piston]/Twin Engined [Turbo Prop]/Sea Plane/Jet, etc)
Property and Land Swap
1 - Houses (log cabins/ long term empty property/cottages/functioning occupied home/large derelict buildings, etc)
2 - Land (residential/brown belt/green belt/mineral rights/farm stead, etc)
3 - Miscellaneous (mines/caves/woodland/forest/beach/sea front/ex-government/Council owned/old schools/public authority/Churches/office buildings, etc)
Company Stock Options
1 - Vendor Placing (An arrangement in which the vendor [in this case, Bunker Shield] receives shares in the purchasing company as part of the deal and immediately sells them on to an institutional investor. The vendor gets what he really wants (cash), the purchasing company is able to pay for its acquisition the way it wants (shares) and the institutional investor gets shares in a company that it likes, at a price that is likely to be below the market value).
2 - Equity Funding (A medium - large Company can give away a stake in its business. They still have to pay for installation of the Bunker, but at a reduced cost. The Vendor [Bunker Shield] will then receive monthly payments from the purchasing Company equating to the size of the stake received/monthly income of that purchasing Company. This is an excellent way for medium to larger sized Companies to acquire a huge Bunker without having to pay full price up front. A deposit may not even be required with this kind of deal, but please note, monthly dividends will be payable to Bunker Shield after the first month of equity transfer).
3 - Company Installments (A large National/International Company with a proven track record may be allowed to purchase a custom designed Bunker with installments spread over a year [perhaps more in exceptional circumstances]! Security WILL BE REQUIRED and this can come in the form of Convertible loan notes [repayable in cash at par value at a later date, or alternatively be converted into ordinary shares of the purchasing Company sooner]. Bank guarantees and asset's can also be considered as additional security. Again, this type of deal is good for a Company, high net worth individual or Consortium's that are looking for the higher end Bunkers with greater space and more custom detailed interior finishing)!
Copyright: © Lee Holden, Director, Bunker Shield, 2013 AD. All rights reserved.
Content: Designed by Lee Holden utilising information, advice and schematics approved by the Home Office and uniquely designed for our individual customers.
Contact: Please use 'Contact Us' form at the top of the webpage.